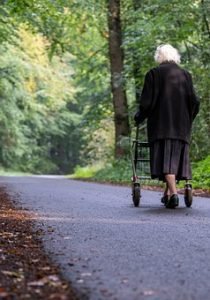 About a third of people over 65 will fall each year, those over 75 the number is even higher. Older individuals following a fall are often unable to get up off the floor without help and assistance, many may find themselves lying on the floor till help arrives. This can result in secondary problems such as hypothermia and pressure sores. Telecare can help prevent a fall occurring and ensure that help & assistance is promptly and automatically provided if you do fall.
Falls in the elderly leads to an increase in the risk of hospitalisation and a significant health decline. As well as physical injuries suffered, the psychological and social consequences of falling can have an equally huge impact. People who fall may suffer depression, anxiety, isolation and loss of independence. The direct and indirect societal costs of falls are enormous, with the healthcare costs alone in Ireland about €500 million annually. Recurrent falls often result in long term care.
Older people now live independently in their own homes for longer and this means ensuring that their properties are safe to live in. For example, the elderly are particularly at risk of falls so it is important to take steps to fall-proof their property.
Older people are more susceptible to falls for a number of reasons including deterioration of muscle and eyesight, issues with balance or a long-term health conditions such as dementia or low-blood pressure.
For family and friends, the fear of a vulnerable loved one falling and hurting themselves is a constant worry.